JT is a global telecoms provider dedicated to providing companies with unique connectivity solutions through mobile networking and emerging technology. Security is at the forefront of our mission. Our services are designed to prevent mobile fraud before it ever happens, keeping consumers safe and preserving the reputations of businesses around the world.
Smartphones are expected to overtake credit and debit cards as the preferred payment method by 2020. Other studies have shown that at least 65% of fraud transactions occurred on mobile devices. It's clear that mobile devices are the future of finance for customers and fraudsters alike, and as such, the need for increased mobile security is greater now than ever before.
JT has created a set of platform-based solutions, providing universal connectivity via a suite of APIs, specially tailored to meet the needs of financial institutions, providing them with the resources they require to keep their customers' data safe. JT's platform-based service acts as an intermediary between a consumer and their bank, providing real-time information that can be used to create a scoring profile within those institutions to enable banks to check for inconsistencies in their client profiles.
Alongside providing clients with a forward-looking connectivity, JT's solutions provide a suite of tools to detect irregularities and protect clients, that guards against several forms of mobile fraud, including SIM Swapping and call diversion – all driven from the same platform.
1. JT Monitor
JT Monitor is the first part of JT's mobile defense. It provides our clients with SIM level information, making it easy to tell if a SIM Swap has recently occurred. A baseline of SIM data is regularly compared against a SIM's current status, providing users with an insight into how high-risk a consumer is for having had their SIM swapped without their knowledge.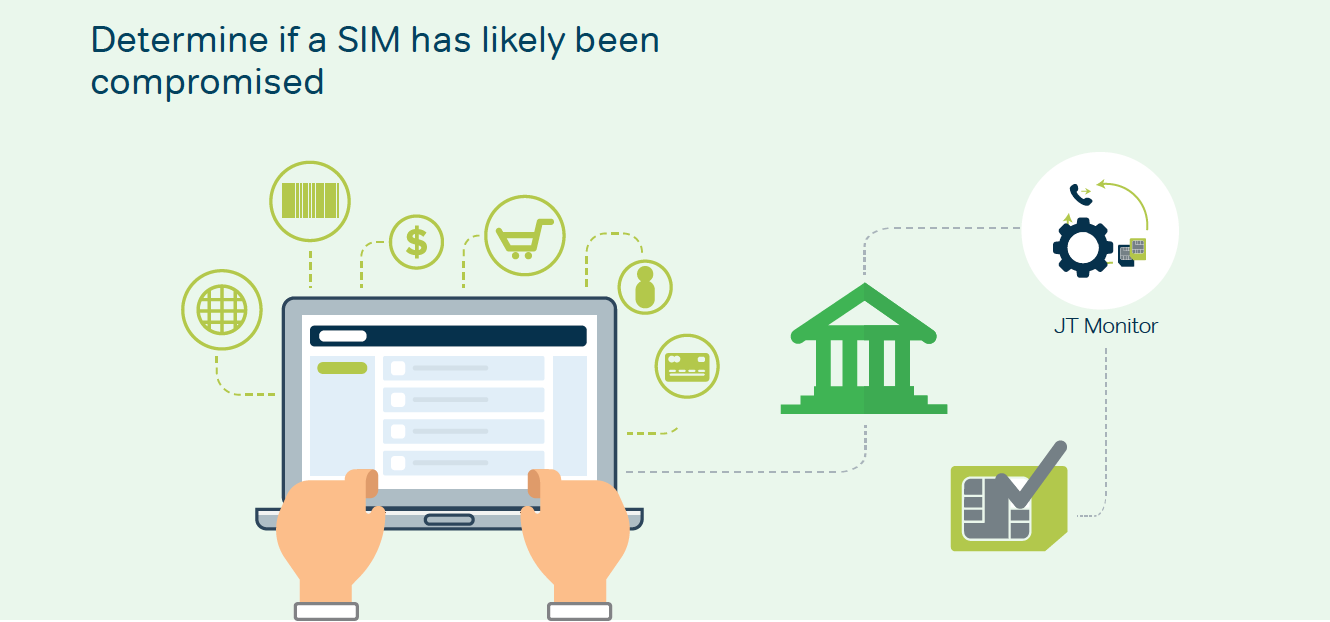 For example, say a customer is attempting to access information or complete a transaction through their bank account. When partnered with JT, that bank can run the request through JT's Monitor system, which checks multiple variables to determine if a SIM is likely to have been swapped maliciously. If JT Monitor determines that the SIM has likely been compromised, it can relay this information to the bank, preventing the hacker from ever accessing any sensitive information or resources within the bank.
JT Monitor works closely with the JT Signal feature as well, which looks for potential call diversions on an individual's phone number - a strong indicator of fraudulent activity. Having these two features working in tandem allows banks to ensure customer safety in spite of the growing risk of SIM Swap fraud.
2. JT Signal
Call forwarding - also known as call diversion - is a form of mobile fraud that routes the phone calls intended for a specific number to another. This means that an institution trying to contact a customer could inadvertently be contacting a fraudster, without the institution's or the customer's knowledge. JT Signal is designed to automatically detect when a forwarded phone call is actually a diverted call and puts a stop to it immediately.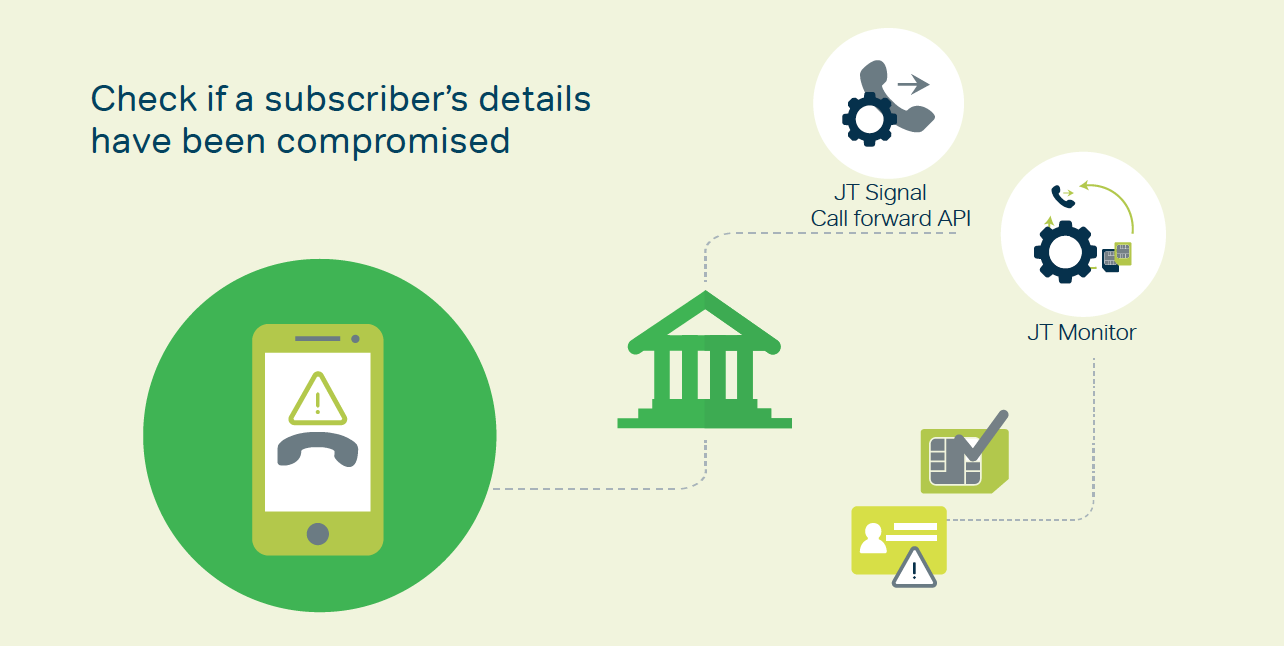 The JT Signal product provides access to a set of APIs that works in conjunction with the JT Monitor product to detect fraudulent SIM Swaps. JT is able to determine whether or not a mobile is set to divert incoming calls. If for example, an unconditional call divert is in place, this can be an indicator that a subscriber's details may have been compromised, and this will be input to the fraud scoring models of the banks to calculate a level of risk.
As part of the JT Signal product line, the platform can measure other unusual behaviour that will determine whether or not a person's SIM is being used abroad, and if so, where. JT Signal is also capable of determining if a phone number is registered and active, preventing false or outdated information from being used.
3. JT Locate
JT Locate is JT's third set of solutions to enable businesses in their pursuit of combatting fraudulent activity. The JT Fraud platform can provide certain levels of information relating to the location of a subscriber's handset which again are fed into fraud scoring profiles. Information determining the country a handset is in, which network they are roaming on, along with proximity based on cell tower information.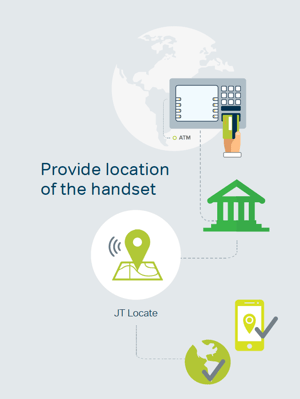 The JT Locate product line, provides these elements of a handsets location to enable customers to determine key information with regards to a subscriber when reviewing account details or making a purchase. For example, if a customer was attempting to make a purchase abroad, their bank would be notified that they were accessing funds in a new location. The bank - partnered with JT - would then send this request through JT Locate's system automatically, which would determine if the subscriber's handset is in the same country as the access for funds is being made. It would then relay the decision back to the bank, at which point the bank would approve or deny the transaction based on JT's response.
The benefit of the scenario described above is that it takes a safety feature that has existed in banking for several years now and further automates the process, making it more convenient for the customer and the bank. Rather than simply denying a person's transaction because it's in an unusual location, JT Locate can provide intelligence to the financial institution to make a decision on whether or not to approve the transaction. This means that customers can enjoy a better experience when banking abroad, and banks can rest assured knowing that their service is just as secure as before, if not more so.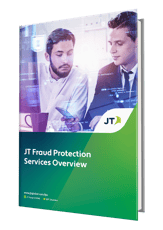 To learn more about JT Fraud Protection Services,
please check out our FPS product overview.
Or contact us through the below form.